As an Amazon Associate I earn from qualifying purchases.
To make Bosnian coffee, grind Turkish coffee beans to a very fine consistency and simmer in a džezva on low heat. Bosnian coffee, also known as Turkish coffee, is a traditional drink in Bosnia and Herzegovina.
It is made by grinding Turkish coffee beans to a very fine consistency and then simmering them in a special pot called a džezva. The process involves low heat, allowing the coffee grounds to settle at the bottom before serving.
Bosnian coffee is usually served in small cups and enjoyed leisurely. It has a rich, strong flavor and is often accompanied by a small piece of Turkish delight or lokum. Learning how to make Bosnian coffee is a wonderful way to experience the cultural traditions of Bosnia and Herzegovina.
Traditional Bosnian Coffee Equipment
When it comes to making Bosnian coffee, having the right traditional equipment is essential. Each piece has its own purpose and adds to the unique experience of enjoying this rich and aromatic beverage. In this article, we will explore three main components of traditional Bosnian coffee equipment: the Džezva (coffee pot), Fildžani (coffee cups), and the Sahan (tray).
Džezva (coffee Pot)
The Džezva, also known as a cezve or ibrik, is a small and narrow coffee pot that is an iconic symbol of Bosnian coffee culture. Made from copper or stainless steel, this pot is specifically designed for brewing coffee in a traditional way. Its unique shape and long handle make it easy to hold and pour the coffee without any spills.
The base: this is where the water and coffee grounds are added.
The neck: it allows for easy pouring and helps to prevent any coffee grounds from escaping.
The handle: it provides a secure grip and heat insulation.
Fildžani (coffee Cups)
In Bosnia, Bosnian coffee is traditionally served in small and delicate cups called Fildžani. These cups are usually made of ceramic or porcelain and have a specific shape that allows for better heat retention. The narrow base and wide rim not only enhance the aroma but also make sipping the coffee a delightful experience.
It's common to find beautiful decorations and intricate patterns on these cups, making each cup not just a vessel for coffee but also an artistic object. Bosnians take pride in their Fildžani, and they are often passed down through generations, carrying with them the memories of countless coffee rituals.
Sahan (tray)
A Sahan, a round metal tray, is an indispensable part of Bosnian coffee culture. It serves both a practical and aesthetic purpose. Traditionally, the Sahan is placed on top of the Džezva to keep the coffee warm and prevent it from cooling down too quickly.
Moreover, the Sahan is also used to carry the coffee cups, sugar cubes, and often delicious Bosnian treats to accompany the coffee. This tray not only adds to the overall presentation of the coffee but also signifies the hospitality and warmth that Bosnians are known for.
In conclusion, having the right traditional Bosnian coffee equipment enhances the experience of preparing and savoring this beloved beverage. The Džezva, Fildžani, and Sahan are not just mere tools but symbols of a rich cultural tradition that has been passed down through generations.
Source Authentic Bosnian Beans
When it comes to making Bosnian coffee, one of the most important steps is sourcing authentic Bosnian coffee beans. The choice of coffee beans plays a crucial role in the overall quality and taste of your coffee. To ensure an authentic Bosnian experience, it's essential to select the right coffee beans from Bosnia and Herzegovina.
Importance Of Selecting The Right Coffee Beans
The authenticity of Bosnian coffee lies in its beans. The unique flavor profile, rich aroma, and full-bodied taste can only be achieved by using high-quality beans. Selecting the right coffee beans will help you capture the true essence of Bosnian coffee tradition.
Not only do the beans determine the flavor, but they also contribute to the overall experience of enjoying Bosnian coffee. Choosing the wrong beans can result in a lackluster taste and disappointment. Therefore, it's crucial to pay attention to the origin and quality of the coffee beans you purchase.
Places To Find Bosnian Coffee Beans
If you're wondering where to find authentic Bosnian coffee beans, there are several options you can explore:
Local specialty stores: Look for local specialty stores or gourmet shops that focus on international products. These stores often stock a variety of coffee beans, including Bosnian coffee.
Online retailers: In the digital age, the internet has made it easier than ever to access products from around the world. Numerous online retailers specialize in selling Bosnian coffee beans, offering convenience and the ability to have them delivered right to your doorstep.
Bosnian grocery stores: If you have access to a Bosnian grocery store in your area, it is highly likely that they will carry Bosnian coffee beans. These stores cater to the Bosnian community and provide a wide range of authentic products.
Alternatives If Bosnian Beans Are Unavailable
If you are unable to find Bosnian coffee beans, don't worry! There are alternatives available that can still help you create a satisfying cup of coffee:
Arabica beans: Arabica beans are known for their smooth and aromatic qualities. Opt for high-quality Arabica beans and try to find a medium roast to mimic the flavor profile of Bosnian coffee as closely as possible.
Turkish coffee: If you're unable to find Bosnian coffee beans, another option is to use Turkish coffee. Turkish coffee is prepared using a similar method and shares some similarities in taste with Bosnian coffee.
In conclusion, the key to making authentic Bosnian coffee lies in sourcing the right coffee beans. By selecting high-quality Bosnian coffee beans or suitable alternatives, you can create a delicious cup of coffee that captures the essence of Bosnian culture and tradition.
How To Make Bosnian Coffee: A Step-by-step Guide
Bosnian coffee is a traditional and cherished beverage in Bosnia and Herzegovina. Made with finely ground coffee beans, the brewing process involves boiling water in a special pot called a džezva, and then combining it with the coffee grounds. If you're a coffee lover looking to experience the rich flavors of Bosnian coffee at home, this step-by-step guide will walk you through the process. Get ready to savor the authentic taste of Bosnian coffee right in your own kitchen!
Grinding Coffee Beans To The Right Consistency
The first step in making Bosnian coffee is to ensure that your coffee beans are ground to the right consistency. This is crucial as it affects the overall taste and aroma of the coffee. For a traditional Bosnian coffee, you'll need a very fine grind, similar to that of Turkish coffee.
Coffee Bean Grinder Options
Electric coffee grinder
Manual coffee grinder
Choose an option that suits your preferences and start grinding your coffee beans until they are finely ground. It's important to maintain a consistent texture throughout the grounds to ensure an even extraction.
Boiling Water In The Džezva
The džezva is a special pot designed for brewing Bosnian coffee. It has a long handle and a narrow neck, which helps to control the brewing process. Fill the džezva with cold water, making sure not to overfill it. The ratio of water to coffee is usually one cup of water for one tablespoon of coffee, but you can adjust it according to your taste.
Place the džezva on the stovetop and bring the water to a boil over medium heat. Keep a close eye on it as it boils, as the coffee can quickly rise and overflow. Once the water reaches a rolling boil, remove it from the heat and let it sit for a few seconds to settle.
Combining Coffee Grounds With Water
After you've let the boiled water in the džezva settle, it's time to add the finely ground coffee to the pot. Measure out one tablespoon of coffee per cup of water and carefully add it to the džezva.
Stir the coffee gently, making sure all the grounds are evenly distributed throughout the water. Then, place the džezva back on the heat and let it simmer over low heat for a few minutes. This allows the flavors to infuse and intensify.
Once the coffee starts to foam and rise to the top of the pot, it's almost ready. Just before it completely boils over, remove the džezva from the heat and let it sit for a minute to let the foam settle.
Finally, pour the coffee into small cups, ensuring that each cup gets an equal amount of foam. Allow it to cool for a moment before savoring the delightful flavors and aromas of Bosnian coffee.
A Flavorful Journey In Each Cup
Experience the rich and enticing flavors of Bosnian coffee, as each sip takes you on a flavorful journey in each cup. Discover the traditional way of pouring and serving this aromatic beverage, the delightful accompaniments that complement its taste, and the cultural significance it holds in Bosnia.
Traditional Way Of Pouring And Serving
Preparing Bosnian coffee is an art that has been passed down through generations. It begins with finely ground coffee beans, which are placed in a copper coffee pot called a džezva. Slowly adding water and stirring gently, the mixture is brought to a boil over low heat. The secret lies in the foam that forms on the surface, known as 'froth' or 'kajmak'. When the coffee reaches this stage, it's ready to be poured.
Using a small cup known as a fildžan, the coffee is carefully poured from the džezva. It is important to pour the coffee slowly, ensuring that the foam is evenly distributed among the cups. This allows each cup to have a balanced flavor, creating a truly satisfying experience for the senses.
Accompaniments: Sugar Lumps, Turkish Delight
Bosnian coffee is often enjoyed with accompaniments that enhance its taste and add a touch of sweetness. Sugar lumps, traditionally made from sugar cubes, are frequently served alongside the coffee. Adding a sugar lump to your cup allows you to customize the level of sweetness to your preference.
In addition to sugar lumps, a popular accompaniment to Bosnian coffee is Turkish delight. This gelatinous treat, made from starch and sugar, provides a delightful burst of flavor that pairs perfectly with the rich and aromatic coffee. The combination of the coffee's bold taste and the sweet, chewy texture of the Turkish delight creates a harmonious balance that will leave you yearning for another sip.
Cultural Significance Of Coffee In Bosnia
In Bosnia, coffee is more than just a beverage – it is a symbol of hospitality, tradition, and connection. Coffee plays a central role in social gatherings and is seen as a means of bringing people together. The process of preparing and serving Bosnian coffee is often a ritualistic affair, with each step done with care and precision.
Bosnian coffee holds immense cultural significance, as it reflects the country's Ottoman heritage and traditional values. Sharing a cup of coffee is a way to forge and strengthen friendships, to engage in meaningful conversations, and to express warmth and hospitality. The tradition of Bosnian coffee drinking is a cherished aspect of the Bosnian way of life, representing a deep-rooted connection with history and identity.
Tips And Tricks For Authentic Flavor
When it comes to making Bosnian coffee, there are a few tips and tricks that can help you achieve that authentic flavor you're craving. From adjusting the coffee strength to exploring regional variations, these suggestions will ensure your coffee is the perfect cup of Bosnian goodness. Additionally, maintaining your coffee equipment is crucial for consistent quality. So, let's dive into these tips and enhance your Bosnian coffee-making skills!
Adjusting Coffee Strength To Personal Preference
If you want to enjoy Bosnian coffee just the way you like it, the strength of the coffee is key. Here are some simple tips for adjusting the coffee strength:
Ratio: The ratio of coffee to water determines the strength. For a stronger cup, increase the amount of coffee, and for a milder taste, decrease the coffee quantity.
Grind size: Finer grounds result in a stronger brew, while coarser grounds create a milder flavor. Experiment with different grind sizes to find your perfect balance.
Brewing time: The longer the coffee is left to brew, the stronger it gets. Keep an eye on the brewing time and adjust it according to your taste preferences.
Maintenance Of Coffee Equipment For Consistent Quality
To ensure your Bosnian coffee consistently tastes amazing, it's essential to take care of your coffee equipment. Follow these tips for proper maintenance:
Cleaning: Regularly clean all coffee-making tools, including the cezve (coffee pot), grinder, and cups, to eliminate any residual flavors and oils that could impact the taste.
Storage: Store your coffee beans or grounds in an airtight container, away from light and moisture, to preserve freshness and flavor.
Grinder calibration: If using a coffee grinder, calibrate it periodically to ensure a consistent grind size, which directly affects the flavor of the coffee.
Exploring Regional Variations Of Bosnian Coffee
The beauty of Bosnian coffee lies in its regional variations. Each region adds its unique twist, allowing you to explore diverse flavors. Here are a few regional variations worth trying:
| Region | Variation |
| --- | --- |
| Sarajevo | Baklava Coffee – a delightful combination of coffee and the syrupy sweetness of baklava. |
| Mostar | Misket Coffee – a fragrant blend complemented by the subtle aroma of misket grapes. |
| Travnik | Špeceraj – a coffee infused with spices like cinnamon, cloves, and nutmeg, creating a warm and comforting experience. |
By exploring these regional variations, you can truly appreciate the richness and diversity of Bosnian coffee.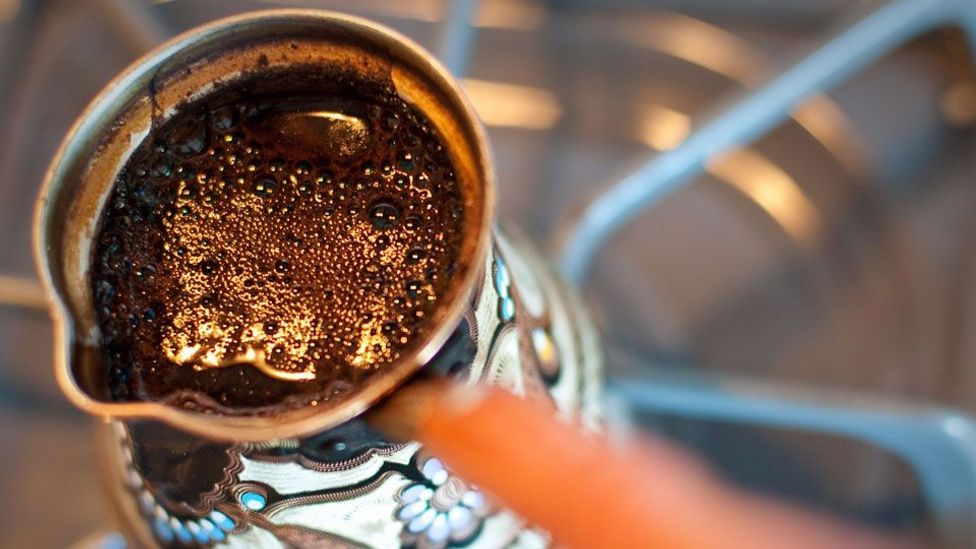 Credit: www.bbc.com
Frequently Asked Questions For How To Make Bosnian Coffee
What Is Bosnian Coffee Made Of?
Bosnian coffee is made from finely ground coffee beans, known as kahva, boiled in a special pot called a džezva. The coffee is often served strong and black, with or without sugar, in small cups called fildžan.
What Is The Difference Between Bosnian And Turkish Coffee?
Bosnian coffee and Turkish coffee are similar in flavor and preparation. Both use finely ground coffee beans and are brewed in a special pot called a cezve. The main difference is the size of the serving cups; Bosnian coffee is typically served in small cups, while Turkish coffee is served in smaller, espresso-sized cups.
What Does Cejf Mean In Bosnian?
Cejf in Bosnian means "Enjoyment" or "Having a good time".
How To Make Arabic Coffee At Home?
To make Arabic coffee at home, start by grinding Arabic coffee beans and cardamom. Add the ground mixture to a pot with water and bring it to a boil. Let it simmer for a few minutes, then remove it from the heat.
Pour the coffee into small cups and serve.
Conclusion
Making Bosnian coffee is a delightful and traditional experience that brings people together. By following these simple steps, you can enjoy a rich and flavorful cup of coffee that embodies Bosnian culture. So gather your loved ones, sit back, and savor the aroma of freshly brewed Bosnian coffee.
Start your day with this ritual and appreciate the beauty of simplicity in the comfort of your own home.
Amazon and the Amazon logo are trademarks of Amazon.com, Inc, or its affiliates.