As an Amazon Associate I earn from qualifying purchases.
To make decaf iced coffee at home, brew a pot of decaffeinated coffee, let it cool, and pour it over ice. We will explore a simple method for creating a refreshing and delicious decaf iced coffee right in your own kitchen.
Whether you're looking to reduce your caffeine intake or simply enjoy a chilled coffee beverage, making decaf iced coffee at home is an easy and cost-effective option. By following a few steps, you can create a satisfying and flavorful drink that will keep you cool and refreshed on hot summer days.
So, let's dive in and learn how to make decaf iced coffee at home.
Choosing Your Decaf Coffee
When it comes to making the perfect decaf iced coffee at home, one of the most crucial aspects is choosing the right decaf coffee beans. With so many options available, it's important to do some research and understand the different factors involved. In this section, we'll explore the best decaf coffee beans, the decaffeination processes, and the pros and cons of using ground decaf coffee versus whole beans.
Research On The Best Decaf Coffee Beans
Before diving into the process of making decaf iced coffee, it's essential to spend some time researching and finding the best decaf coffee beans to suit your taste preferences.
When conducting your research, take into consideration factors such as origin, roast level, and flavor profiles. Some popular origins for decaf coffee beans include Colombia, Brazil, and Sumatra. Each origin offers unique characteristics that can greatly impact the taste of your iced coffee.
Additionally, pay attention to the roast level. Decaf coffee beans are typically roasted in the same way as regular coffee beans, ranging from light to dark roasts. Light roasts tend to have brighter and more acidic flavors, while dark roasts offer a bolder and richer taste.
Key Considerations for Decaf Coffee Bean Selection

| Origin | Roast Level | Flavor Profile |
| --- | --- | --- |
| Colombia | Light | Bright, acidic |
| Brazil | Medium | Medium-bodied, chocolatey |
| Sumatra | Dark | Earthy, bold |
| Ethiopia | Light | Fruity, floral |
Understanding Decaffeination Processes
Decaffeinated coffee goes through a specialized decaffeination process that removes most of the caffeine content while maintaining the flavor and aroma. There are several decaffeination methods employed by coffee producers, each with its own advantages and effects on taste.
Swiss Water Process: This method uses water to remove caffeine from the beans, resulting in a flavorful decaf coffee without the use of chemicals.
Direct Solvent Process: In this method, a solvent, usually ethyl acetate or methylene chloride, is used to dissolve and extract the caffeine from the coffee beans.
Indirect Solvent Process: Similar to the direct solvent process, but the beans are soaked in water first, which extracts the caffeine. Then, the solvent is used to remove the caffeine from the water.
Carbon Dioxide (CO2) Process: This method uses CO2 to extract the caffeine from the beans, leaving behind the flavors and oils.
Comparing Ground Decaf Coffee Vs. Whole Beans
When it comes to choosing between ground decaf coffee and whole beans, there are a few factors to consider.
Ground decaf coffee offers convenience and easy brewing. It is ready to use without the need for grinding, making it a time-saving option. However, ground coffee tends to lose its flavor and aroma faster compared to whole beans. If freshness is a priority for you, whole beans may be a better choice, as they retain their flavors longer.
Whole beans also give you the freedom to adjust the grind size according to your brewing method. Different brewing methods, such as pour-over or French press, require different grind sizes to achieve the desired flavor extraction. With whole beans, you have the flexibility to experiment and find the perfect grind size for your iced coffee.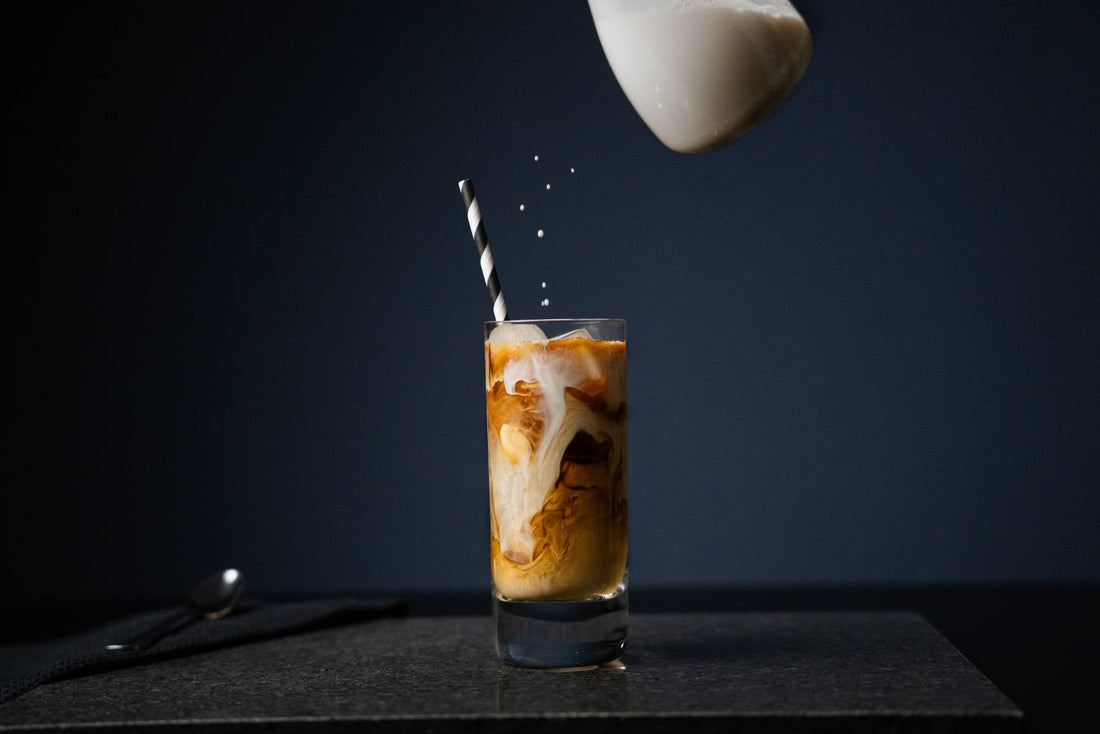 Credit: www.sevenmiles.com.au
Essentials For Decaf Iced Coffee
Learn the essentials for making decaf iced coffee at home with our easy-to-follow guide. Discover simple techniques and tips for a refreshing and flavorful caffeine-free treat that you can enjoy anytime.
When it comes to making a refreshing glass of decaf iced coffee at home, there are a few essentials that you need to consider. From the right equipment and tools to selecting the best water quality and ice, each element plays a crucial role in achieving a perfectly brewed and chilled decaf coffee beverage. In this blog post, we will explore these essentials and guide you on how to make the best decaf iced coffee right in the comfort of your own home.
Equipment And Tools Needed
Before you start making your decaf iced coffee, it's important to have the right equipment and tools on hand. Here is a list of what you will need:
A coffee grinder
A coffee maker or a French press
A pitcher or a large jar for brewing
A stirring spoon or a bamboo paddle
A measuring cup
A fine-mesh sieve or a coffee filter
A tall glass or a mason jar for serving
A long-handled spoon or a reusable straw for stirring
With these essentials readily available, you'll be well-prepared to make your own decaf iced coffee at any time.
Selecting The Right Water Quality
The quality of water you use can greatly affect the taste of your decaf iced coffee. It's essential to choose water that is clean and free from impurities. Here are a few tips to help you select the right water:
Filtered or purified water is ideal for brewing decaf coffee as it eliminates any possible chlorine or mineral tastes.
Avoid using distilled water, as it lacks the necessary minerals to enhance the coffee's flavor.
If using tap water, make sure it has a neutral taste and is not heavily treated with chemicals.
By using high-quality water, you can enhance the overall taste and aroma of your decaf iced coffee.
Importance Of Ice Quality
Ice plays a vital role in the preparation of decaf iced coffee, ensuring that it remains chilled without diluting the flavor. Here's why ice quality matters:
Use ice cubes made from filtered or purified water to prevent any unwanted flavors.
Avoid using ice that has been stored for a long time or has absorbed odors from the freezer.
Consider using coffee ice cubes for an even richer coffee flavor without dilution.
By using high-quality ice, you can maintain the integrity of your decaf iced coffee and enjoy a refreshing sip every time.
Cold Brew Vs. Hot Brew Techniques
When it comes to making decaf iced coffee at home, there are two primary brewing techniques to consider: cold brew and hot brew. Each method has its own unique advantages and can result in a delicious cup of decaffeinated coffee. In this section, we will explore both techniques in detail and provide step-by-step instructions for each.
Step-by-step Cold Brewing Method For Decaf
Cold brewing is a popular method for making decaf iced coffee as it produces a smoother, less acidic cup of coffee. Here's a step-by-step guide on how to cold brew decaffeinated coffee:
Coarsely grind your decaf coffee beans. Using a coarser grind will prevent overextraction.
Place the coffee grounds in a clean, airtight container or a French press.
Add cold filtered water to the container, using a ratio of 1 part coffee to 4 parts water.
Stir the mixture gently to ensure all the coffee grounds are fully immersed in the water.
Cover the container and let it steep in the refrigerator for at least 12 hours, but ideally for 16 to 24 hours for stronger flavor.
After steeping, separate the coffee grounds from the liquid by straining it through a fine-mesh sieve or a coffee filter.
The resulting cold brew concentrate can be stored in the refrigerator for up to a week.
To enjoy a refreshing decaf iced coffee, dilute the cold brew concentrate with cold water or milk, and add ice cubes for a cooling effect.
Hot Brewing Methods For Immediate Serving
If you're looking for a quick cup of decaf iced coffee without the wait time of cold brewing, hot brewing methods can be a great option. Here are a few hot brewing techniques for immediate serving:
1. Pour Over Method
The pour-over method is a popular hot brewing technique that allows you to control the water flow and extraction time of your decaf coffee. Here's how to do it:
Boil water and let it cool for about 30 seconds to 1 minute to reach the optimal temperature of around 195°F to 205°F.
Place a paper filter in a pour-over dripper or a chemex.
Add the desired amount of medium-coarse ground decaf coffee to the filter.
Slowly pour hot water over the coffee grounds in a circular motion, starting from the center and working your way out.
Allow the coffee to drip through the filter into a carafe or directly onto ice.
2. AeroPress Method
The AeroPress brewing method is known for its simplicity and ability to create a clean and rich cup of decaf coffee. Here's how to use an AeroPress:
Boil water and let it cool for about 1 minute to reach a temperature of around 175°F to 185°F.
Place a paper filter into the AeroPress filter cap and rinse it with hot water.
Attach the filter cap to the chamber and place the AeroPress on top of a sturdy mug.
Add the desired amount of fine to medium grind decaf coffee into the chamber.
Pour hot water into the chamber and stir gently for about 10 seconds.
Insert the plunger and slowly press it down to extract the coffee into the mug.
Tips For Achieving The Optimal Extraction
To ensure you achieve the best possible flavor when brewing decaf coffee, consider these tips for optimal extraction:
Use freshly roasted decaf coffee beans for the best flavor.
Grind the coffee beans just before brewing to preserve their freshness.
Experiment with different grind sizes to find the one that suits your taste preferences.
Control the water temperature to extract the desired flavors without scorching the coffee.
Adjust the coffee-to-water ratio according to your desired strength.
Store your decaf coffee in an airtight container away from moisture and sunlight to maintain its freshness.
How To Make Refreshing Decaf Iced Coffee At Home
Who says decaf coffee can't be refreshing? If you're craving a delicious and thirst-quenching iced coffee, but prefer to skip the caffeine buzz, we've got you covered. In this post, we'll show you how to make refreshing decaf iced coffee at home, so you can enjoy a cool and flavorful pick-me-up without any jitters or sleepless nights. Whether you're a decaf aficionado or just looking to switch things up, these simple steps will have you sipping on the perfect cup of decaf goodness in no time.
Blending Decaf Coffee With Ice
To kick off your decaf iced coffee adventure, start by brewing a strong pot of your favorite decaf coffee. You want the flavor to shine through, even when chilled. Allow the coffee to cool to room temperature, and then pour it into an ice cube tray. Freeze until solid.
Once your coffee ice cubes are ready, it's time to blend up a cool and creamy decaf iced coffee. Here's what you'll need:
1 cup of decaf coffee ice cubes
1 cup of milk or non-dairy alternative
1-2 tablespoons of sweetener, such as sugar or honey
Combine the coffee ice cubes, milk, and sweetener in a blender. Blend until smooth and creamy. Feel free to adjust the milk or sweetener to your taste preferences. Pour the mixture into a glass filled with additional ice cubes, and your refreshing decaf iced coffee is ready to be enjoyed!
Customizing With Sweeteners And Creams
Sweetening and creaming your decaf iced coffee is a personal preference. Luckily, there are plenty of options to cater to your unique taste buds. Here are a few ideas for customizing your decaf iced coffee:
Experiment with different sweeteners like flavored syrups, agave nectar, or stevia.
Add a splash of vanilla or almond extract for an extra layer of flavor.
For creamier iced coffee, swap regular milk with coconut milk, almond milk, or even oat milk.
Remember to taste your concoction as you go and adjust the sweetness and creaminess to your liking. The beauty of making your decaf iced coffee at home is having the freedom to customize it exactly how you want.
Adding Unique Flavors And Twists
Ready to take your decaf iced coffee to the next level? Here are some ideas for adding unique flavors and twists:
Sprinkle a pinch of cinnamon or nutmeg on top for a touch of warmth.
Blend in a handful of frozen fruits like berries or banana slices for a fruity kick.
Drizzle chocolate syrup or caramel sauce over your finished decaf iced coffee for a decadent treat.
Feel free to get creative and experiment with different flavors to find your own signature decaf iced coffee creation. The possibilities are endless, and the result is a refreshing, flavorful, and caffeine-free beverage that will keep you cool all summer long.
Preserving Flavor And Freshness
Freshness and flavor are key when it comes to enjoying a delicious cup of decaf iced coffee. By following a few simple steps, you can ensure that your homemade decaf iced coffee stays fresh and flavorful for longer. In this section, we will explore storage tips, best practices for pre-brewing preparations, and how to serve and garnish like a pro.
Storage Tips For Decaf Iced Coffee
Proper storage is vital to preserving the taste and quality of your decaf iced coffee. Here are a few tips to keep in mind:
Store in an airtight container: Transfer your brewed decaf coffee into a clean, airtight container before refrigerating it. This helps to prevent the absorption of odors from other foods in the refrigerator, keeping your coffee tasting fresh.
Keep it cold: Store the container of decaf iced coffee in the coldest part of your refrigerator, preferably at a temperature below 40 degrees Fahrenheit (4 degrees Celsius). This helps to slow down the oxidation process and maintain freshness.
Don't keep it for too long: While decaf coffee can last longer than regular coffee due to its lower oil content, it's still best to consume it within 3-4 days for optimal flavor. Beyond that timeframe, the taste may start to deteriorate.
Best Practices For Pre-brewing Preparations
Preparing your decaf iced coffee is just as important as storing it correctly. Here are some best practices to follow:
Use freshly roasted beans: Invest in high-quality, freshly roasted decaf coffee beans. Freshly roasted beans retain more flavor and aroma, resulting in a better-tasting cup of coffee.
Grind just before brewing: To preserve the freshness of your decaf coffee, grind the beans just before brewing. This helps to maintain the aromatic compounds that contribute to the flavor.
Use cold water: When making your decaf coffee, use cold water instead of hot water. This slow extraction method helps to reduce bitterness and produce a smoother taste.
Experiment with brew time and concentration: Adjust the brewing time and concentration to suit your personal taste preferences. Keep in mind that decaf coffee may require slightly longer brewing time compared to regular coffee.
How To Serve And Garnish Like A Pro
Now that you've mastered the art of brewing and storing your decaf iced coffee, it's time to elevate your serving and garnishing game. Here are some tips to impress:
Ice cubes matter: Use large ice cubes to avoid diluting your decaf iced coffee too quickly. Additionally, consider making coffee ice cubes to add a subtle coffee flavor as they melt.
Garnish with flair: Amp up the visual appeal of your decaf iced coffee by adding garnishes like whipped cream, chocolate shavings, or a sprinkle of cinnamon on top. This adds a touch of elegance and enhances the overall experience.
Experiment with sweeteners and flavors: Customize your decaf iced coffee by adding sweeteners like vanilla syrup, caramel sauce, or flavored creamers. Be adventurous and discover new flavor combinations that suit your taste buds.
Don't forget the straw: Serve your decaf iced coffee with a straw to enhance the sipping experience and keep the flavors well-mixed.
Frequently Asked Questions On How To Make Decaf Iced Coffee At Home
How Do You Make Decaf Iced Coffee?
To make decaf iced coffee, brew decaffeinated coffee, let it cool, then pour it over ice. Add milk, sweetener, or flavorings if desired. Enjoy your refreshing and caffeine-free iced coffee.
Can Decaf Coffee Be Cold Brewed?
Yes, decaf coffee can be cold brewed like regular coffee. Cold brewing involves steeping ground coffee in cold water for an extended period. Decaf coffee beans can be used in the same way to make a smooth and flavorful cold brew without the caffeine.
Does Anyone Make Decaf Iced Coffee?
Yes, many companies offer decaf iced coffee for those who prefer a caffeine-free option.
Can I Make Decaf Coffee At Home?
Yes, you can easily make decaf coffee at home. Just purchase decaffeinated coffee beans or use a decaf coffee blend and brew it using your favorite brewing method. Enjoy your cup of decaf coffee whenever you like.
Conclusion
Making decaf iced coffee at home is a simple and refreshing way to satisfy your caffeine cravings without the jitters. By using the right brewing method and choosing high-quality decaf coffee beans, you can enjoy a delicious and chilled beverage that rivals those from your favorite café.
From cold brewing to using flavored syrups, there are endless possibilities to customize your decaf iced coffee to suit your taste preferences. So why not skip the coffee shop and try making your own decaf iced coffee at home today?
Trust me, you won't be disappointed!
Amazon and the Amazon logo are trademarks of Amazon.com, Inc, or its affiliates.